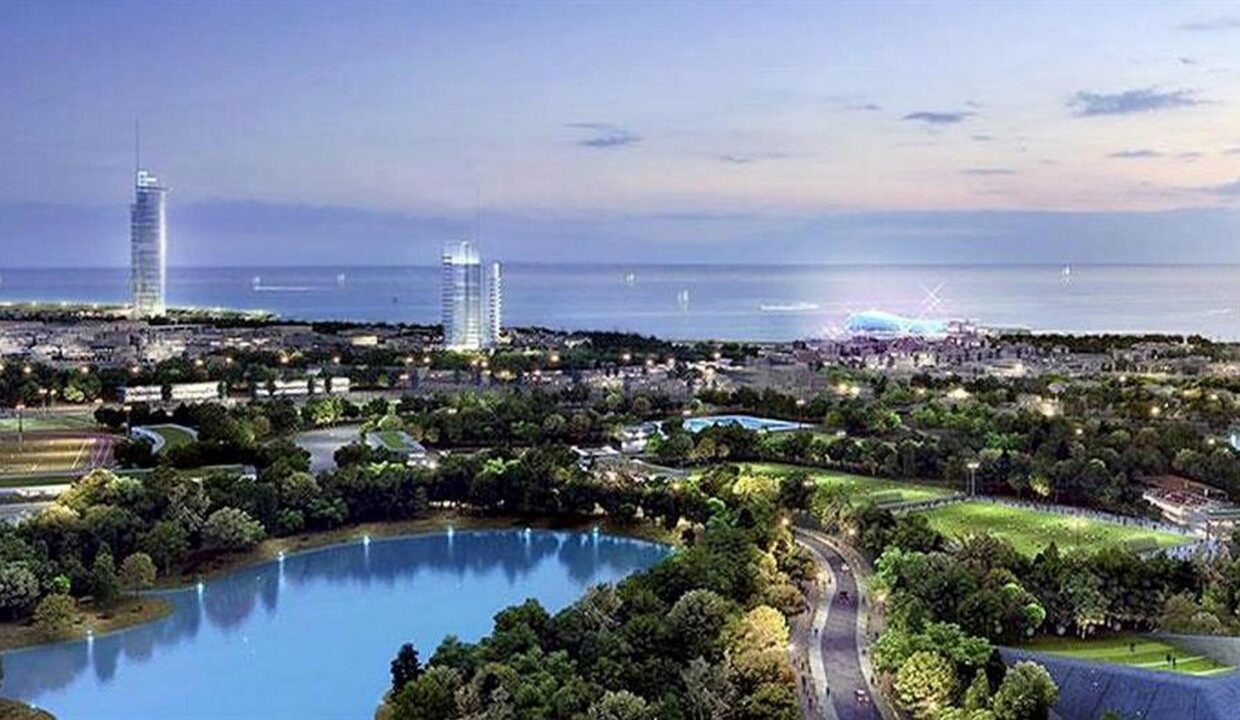 Elliniko: 80,000 jobs – What projects will be implemented in the first five years?
Preliminary work in the area of ​​the former Elliniko airport is currently in full swing, with the initial planned demolition of 1/3 of the 900 buildings located on an area of ​​400,000 sq.m.
Immediately after that, according to a statement by Lamda Development CEO Odysseas Athanasiou, in a welcoming address to Prime Minister Kyriakos Mitsotakis and government ministers at the opening of preliminary work, major infrastructure projects will begin in the first half of next year.
In a symbolic but very important step, Prime Minister Kyriakos Mitsotakis, accompanied by competent ministers who helped to overcome legal and bureaucratic obstacles, visited Elliniko and gave a signal to start work.
He spoke about the creation of 80,000 jobs through projects in Elliniko, of which 10,000 jobs will be created only at the construction stage.
"We want to make the place where the planes took off a symbol of the take-off of Greece in a new era," said Odysseas Athanasiou, noting the decisive contribution of the government to the start of work. Mr. Athanasiou also thanked the key shareholder of Lamda for the project, "he consistently supported it for 7 years and a few months ago, reaffirmed its trust in the country and its economy by investing more than 300 million euros," as well as the Lamda team, which, as he put it, "with passion, Don Quixote believed that we would reach the present day when a small minority will believe in this work."
This will contribute to a 2% GDP growth.
Elliniko, as Odysseas Athanasiou has repeatedly stated and personally supported, is a project of national cooperation and attraction of international funds. We have no problem being a minority in many individual projects, respecting the specialization of the companies that will implement the projects, Mr. Athanasiou emphasized, which is already being implemented in practice.
In his short greeting, Mr. Athanasiou also referred to his vision of Elliniko, which should make all Greeks proud and at the same time be involved in the project.
"Even in difficult times, when people close to me were skeptical and doubted whether the project would work, I was optimistic that investments would go further. Whenever difficulties arose, our vision of Elliniko gave us the strength to continue, "said Odysseas Athanasiou, who has led Lamda Development for 12 years, putting his personal stamp on further capitalization and net asset value at levels above 1 billion euros.
The work of the first five years
During the first five years, the main focus will be on the development of the coastal zone in an important part of the Capital Park, which will connect the coastal front with Vouliagmeni Avenue and will include a number of modern sports facilities, as well as part of the urban center along Vouliagmeni Avenue.
As stated in the Lamda development plan, the main strategic goal for the first five years is to create facilities that will create an attractive environment for a wider local community and visitors, while at the same time increasing the recognition of the Greek capital Agios Kosmas locally and internationally.
Planned investments for the first five years:
Capital Park
The introduction of an important part of the Capital Park using greenery, leisure, free places, sports, culture, utilities and standard urban infrastructure in terms of their operations. Capital Park with an area of ​​more than 2,000,000 square meters, larger than Hyde Park in London (1,420,000 sq. m), is a milestone in the Elliniko project. It will be a green oasis, an open park for everyone, which will change the look of the urban landscape and become a center of attraction of interest.
It is significant that during the first five years it is planned to implement the following developments:
Sports facilities, which will include tentatively: open and closed areas for training, as well as a swimming complex that will serve a number of sports.
Transformation of the former Canoe Kayak Olympic facility into a body of water and reuse of existing buildings.
Using the building, formerly known as the newest monument, the former "East Athens Airport" (Saarinen building) as an exhibition center in accordance with applicable law.
Transformation of the air force's covered areas, which were designated as monuments, into museums.
Catering / recreation areas
New beach
Repair and improvement of the sandy beach. A new sandy beach with free access for everyone between the marina and the coastal village will have a length of about one kilometer and an average width of 50 meters. The beach will connect with the Capital Park and Vouliagmeni Avenue through the main promenade. It is also easily accessible by tram, bus or car, and it will be well connected to the bike paths of the Capital Park.
Marina
The existing 308-seat Agios Kosmas marina will be modernized, easily accessible by public transport, and a shopping area will be built with luxury shops, restaurants and entertainment venues with an estimated construction area of ​​about 20,000 sq.m. on the mainland of the marina. At the same time, a luxury hotel (5 stars) with a capacity of about 300 rooms, as well as a beach / yacht club will be built.
Marina Residences Tower
Construction of a seaside residential tower in the area using a clean house adjacent to the marina of Agios Kosmas, with a permissible height of 200 m above sea level and a maximum estimated building area of ​​about 45,000 sq.m. This building will have unlimited views of the marina and the Aegean Sea, as well as the Capital Park and the wider landscape of Athens, while it will be a landmark of the area (Landmark).
Coastal Luxury Hotel
We are talking about the construction of a luxury seaside hotel (5 stars) with a capacity of about 175 rooms, which will be located next to the tourist shelter for small boats with a maximum estimated building area of ​​about 20,000 sq.m.
Coastal settlement
Construction of a seaside settlement of soft-built houses (detached private houses, multi-apartment residential complexes with a maximum height of 11 m.), in the area using clean housing adjacent to the coastal luxury hotel, with a maximum estimated building area of ​​about 43,000 sq.m.
Residential complexes
The construction of residential complexes of various types and qualitative characteristics (buildings up to 50 m high opposite the Capital Park, typical residential buildings, etc.). These apartments will be offered in various sizes / rooms and will be oriented mainly to the domestic market to meet the needs of modern residential areas. The first stage of development will include at least 300 houses.
Shopping center on Vouliagmeni Avenue
The development of a shopping center in the city center on Vouliagmeni Avenue, next to the ELLINIKO metro station and the estimated total rental area of ​​about 85 thousand square meters. It is planned that it will become a new shopping center, which will include various shops and innovative entertainment and dining areas, offering visitors a number of new experiences.
Integrated tourist casino complex (implemented by the contractor of the International Competition for the issuance of a license to operate a casino)
Construction of a full-fledged tourist complex with a casino. The multi-storey complex will include a 5-star hotel with a minimum area of ​​60,000 square meters, casino premises with an area of ​​at least 12,000 square meters, conference rooms and facilities with a minimum area of ​​12,000 square meters. It will be located behind the hotel on the marina and will offer direct access to the beach through a pedestrian bridge that will cross Poseidonos Avenue.
Infrastructure projects
Implementation of other infrastructure projects, port projects for the enrichment and protection of  beaches, a tourist shelter and a marine facility, special access works for the construction of an aquarium, protective works for the outflow of the Trakhonas stream, marking of a new tram line that will connect the existing network along the coastal avenue with the city center at Vouliagmeni Avenue through Capital Park, the project of by passing and the underground part of the Poseidonos beach avenue (a project that will combine the Capital Park with the coastline), projects of river flow redirection, installation of facilities for solid waste management, treatment facilities for irrigation of Capital Park and other green public and outdoor areas, etc.
"Smart" city designed by internationally renowned architects
Elliniko as a whole was designed as a "smart" – green city, creating future prospects for sustainable development. A city that will operate on smart energy, smart water management, smart waste management, smart mobility and smart digital infrastructure.