11-bdrm villa in Mykonos for rent
Location: Mykonos, Cyclades, Greece
Rent
from 15,750€ per week
Description
23 guests 11 bedrooms 12 bathrooms 900 sqm
Once past the door, traditional Cycladic architecture combines with natural light to illuminate the villa. The hall and its skylight open on arcades behind which extend the rooms to live. A double living room, its comfortable sofas and fireplace are adjacent to a large dining room, close to the fully equipped kitchen. White walls, exposed beams, carved colonnades, wooden furniture and colorful decorative touches with historical objects and works of art: Villa navigates between authenticity and contemporary lines.
On the floors of the main house and by the pool, a studio and seven bedrooms make up this real palace in the colors of summer. Pink, white, blue, green and yellow alternately adorn each of the rooms in their bright colors, while the adjoining bathrooms contrast with the whiteness of the walls and the simple purity of their equipment. The studio consists of a double bedroom and a kitchenette, and the suite with living room and sleeping area opens directly onto the pool. All these spaces have direct access to the outside: shaded or sunny terraces, balconies and gardens are at your fingertips. Three charming stone sheepfolds, located near the main house, have been refurbished as guest rooms. Each consists of a double bedroom and en-suite bathroom with breathtaking sea views.
Key features
Outdoor bar
Rooftop
Fitness equipment
Outdoor jacuzzi
No neighbors
Panoramic sea view
Cleaning: daily
Rooms
Living Room
2 sofa
Living Room
Sea view
2 sofa
Table
1 tv
Living room 1
Tv
Living room
Hi-fi stereo
7 sofa
6 armchair
3 sofa bed (double)
Tv
Fireplace
Living room
Hi-fi stereo
Tv
Kitchen
Separate kitchen
Dishwasher
Hood
Oven
Kettle
Toaster
Nespresso machine
2 refrigerator
Ice machine
Amenities
Swimming pool
Outdoor jacuzzi
Gym room
Fitness equipment
Central heating
Air-conditioning – bedrooms only
WiFi
Pool house
Barbecue
Veranda
Patio
Outdoor bar
Rooftop
Deck chairs / Sun Bed
Hi-fi stereo
Mediterranean garden
Balcony
Terrace
Security guard
Safe
Alarm system
Not suitable for the disabled
The surroundings
Sea breezes gently brush against the village's white roofs, shielded from the invigorating Aegean Sea by a few hills. On the island of Mykonos at the heart of the Cyclades, the village of Ano Mera stands peacefully between a church, its 16th century cloister, and Paleokastro Monastery.
Just a short distance from the town, we can spot, at a distance, Villa Kara's white walls and façades in local stone facing the sea, overlooking the scenery from one of the island's hills. In the middle of grounds spanning 4500m2, this three-storey residence enjoys astounding calmness enhanced by a peaceful view of the coast, accessible by foot, and the neighbouring islands. Near the swimming pool, sundecks brush sides with shady terraces whose outdoor lounge and dining area are invitations to conviviality.
An ideal stopover for savouring the serenity of the Cyclades or for exploring archaeological remains, Villa Kara, between sea and land, would no doubt have met the approval of the legendary King Minos.
No neighbors
Out of town
Partial mountain view
Sea view
Nearby
Beach within walking distance
Restaurants and bars within driving distance
Similar Properties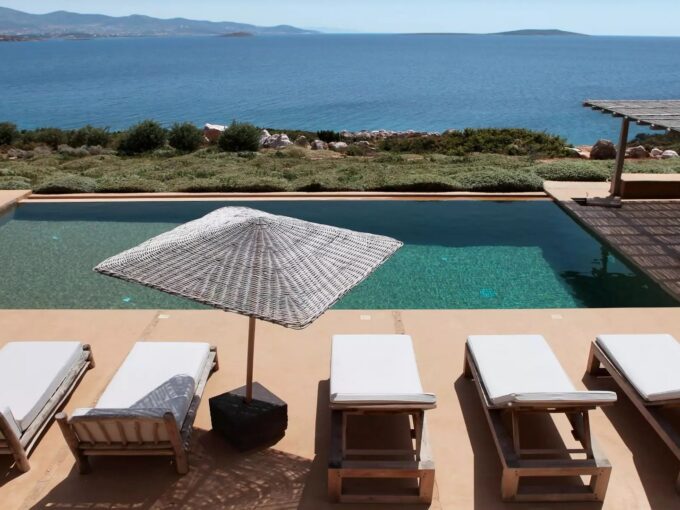 KEY FEATURES Outdoor swimming pool Beach within walking distance Sea…
Rent
From 17,000€ per week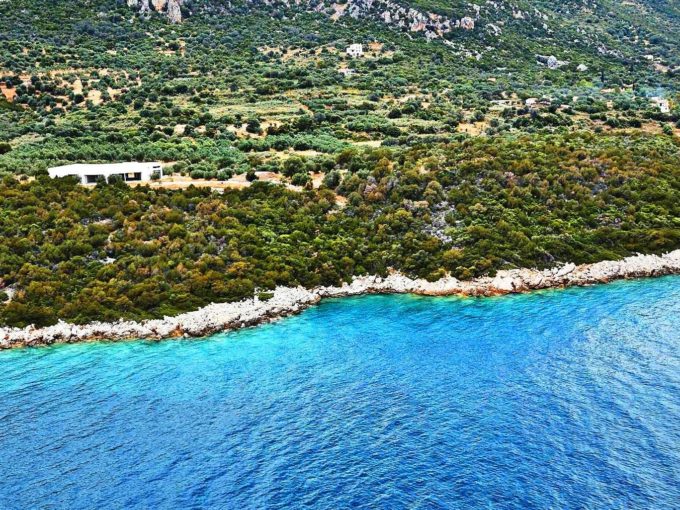 In front of the sea, a modern villa of 950…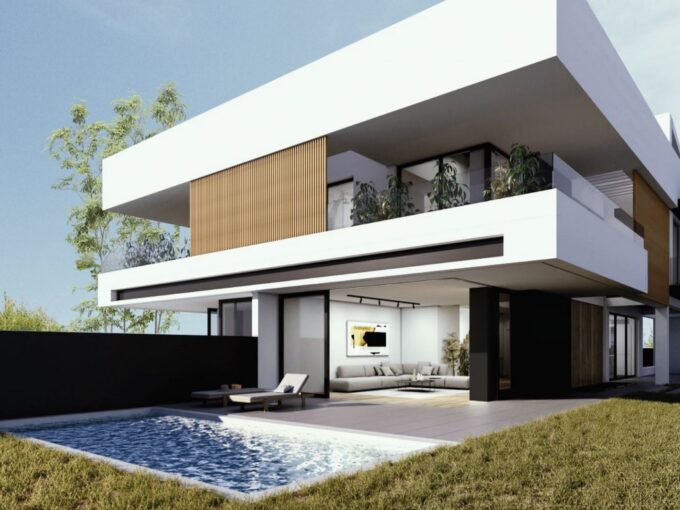 MINIMUM MAINTENANCE COST Choice of materials that require a minimum…