7-bdrm villa in Mykonos
Location: Mykonos, Cyclades, Greece
Rent
from 14,000€ per week
Description
12 guests 7 bedrooms 6 bathrooms 357 sqm
Erected on a beautiful seafront terrace, this Villa puts its contemporary architecture with cubic shapes, whitewashed walls and sky-blue shutters on display. Inside, the ambiance exudes freshness. The clean white contrasts with the blue of the sky and sea and with the colors of the fabrics and furniture, while the decoration and contemporary artwork bring little touches of color and lightness. In the living room, a large bay window opens straight onto the glistening sea.
Outdoors at Villa , you can play cards in the summer lounge of the covered terrace, relax on a deck chair or dive into the refreshing water of the pool. In the afternoon, a few minutes' stroll along the sea will take you the beautiful beach of Agios Stefanos, where dozens of straw parasols are lined up. In the early evening, go up to the Epistrophi restaurant overlooking the beach to enjoy the grilled fish of the day.
Key features
Central air-conditioning
Sea view
Fitness equipment
Helipad
Outdoor jacuzzi
Panoramic sea view
Cleaning: daily
Rooms
Living room
Hi-fi stereo
Bookshelf
Tv
Kitchen
Professional kitchen
Open kitchen
Central island
Dishwasher
Hood
Oven
Microwave
Kettle
Toaster
Nespresso machine
4 refrigerator
Living Room
Hi-fi stereo
1 sofa
1 armchair
Tv
Fireplace
Kitchen
Open kitchen
Dishwasher
Hood
Oven
Microwave
Kettle
Toaster
Nespresso machine
4 refrigerator
Ice machine
Amenities
Swimming pool
Outdoor jacuzzi
Central air-conditioning
Central heating
WiFi
Barbecue
Veranda
Patio
Outdoor bar
Deck chairs / Sun Bed
Helipad
Interphone – Videophone
Digicode and smart key
Safe
Alarm system
To the northwest of Mykonos, amid the wild hills, you pass through the charming little village of Agios Stefanos, with its whitewashed houses and many churches. Outside the village, the above Villa rises above the sea, perched on a shorefront cliff.
Out of town
Sea view
City view
Similar Properties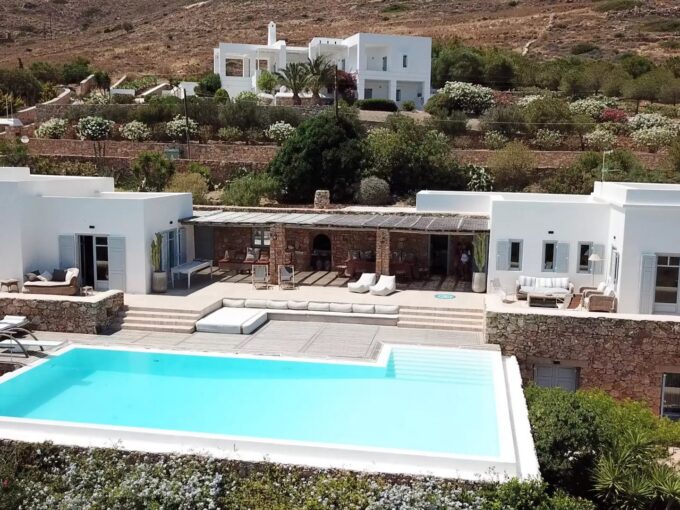 Key features Outdoor swimming pool Central air-conditioning Barbecue Raised garden…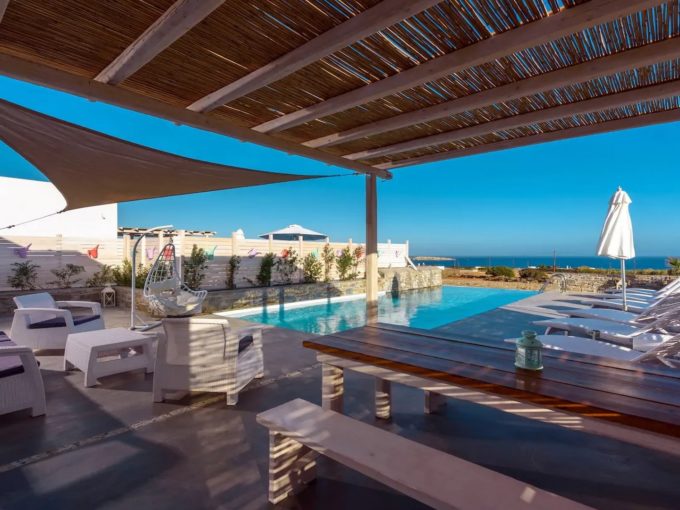 The house is located in a quiet location with sea…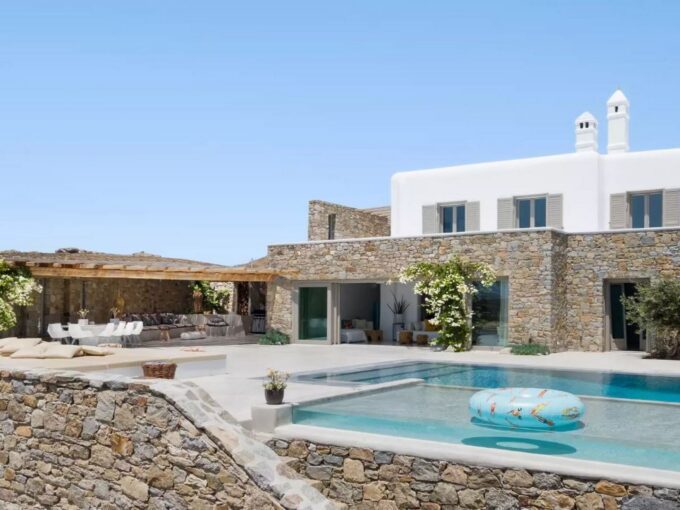 12 guests 6 bedrooms 7 bathrooms 350 sqm The façade…
Rent
from 9,100€ per week