Villa in Paros
Location: Paros, Greece
Rent
From 5,005€ per week
Description
The golden stoned front is in harmony with the cream plastered walls that are part of some of the buildings. On the large shaded terraces, armchairs and couches covered with white fabric are looking at the sea. All around, the oleanders and lupine beds exhale their summer scent. A path with white and round pebbles leads the way toward the pool that seems to throw itself into the sea.
The beautiful carved wood door reveals a surprising olive tree. It found its place in the middle of the hall, built with natural stones. In the front of the building, a living room with a sublime leather couch, a cozy dining room and an open kitchen create a large space. Bronze pendant light globes give a special shine to the room. Two classical paintings represent the faces of a man and a woman from another time.
The master's bedroom is on the ground floor. Sitting at the small desk, one might write in a notebook. Two armchairs outstretch their dark wood arms. The bedspread is immaculate white. The superb bathroom displays marble here and there which reminds one that the reputation of Paros has once been built on its marble quarries.
Upstairs, beige painted or natural colored wood beams run along all the ceilings in all the rooms. The walls, the sinks and the showers of the bathrooms are made from painted concrete. Their rounded shape have a velvety touch. The bedspreads are plain with mineral or vegetal colors: grey as granite or green as lichen.
The villa is in harmony with elements. It is part of a whole. The quietness and the contemporary comfort will please many.
KEY FEATURES
Central air-conditioning
Beach within walking distance
Private entrance to a shared beach
Prepared breakfast
Prepared lunch
Prepared dinner
Cleaning: daily
AMENITIES
Swimming pool
Ceiling fans
Central air-conditioning
Central heating
WiFi
Barbecue
Veranda
Deck chairs / Sun Bed
Dock
Mediterranean garden
Vegetable garden
Terrace
Automatic gate
Safe
Not suitable for the disabled
THE SURROUNDINGS
Out of town
Private entrance to a shared beach
Sea view
Beach within walking distance
Similar Properties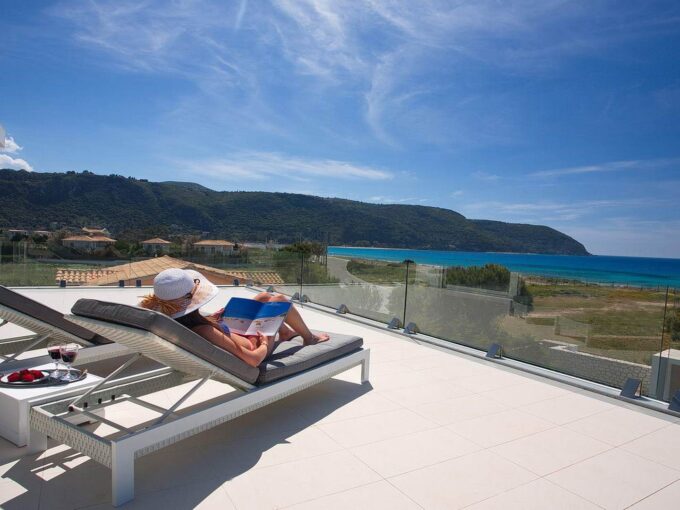 Luxury Villa is located in a place that offers a…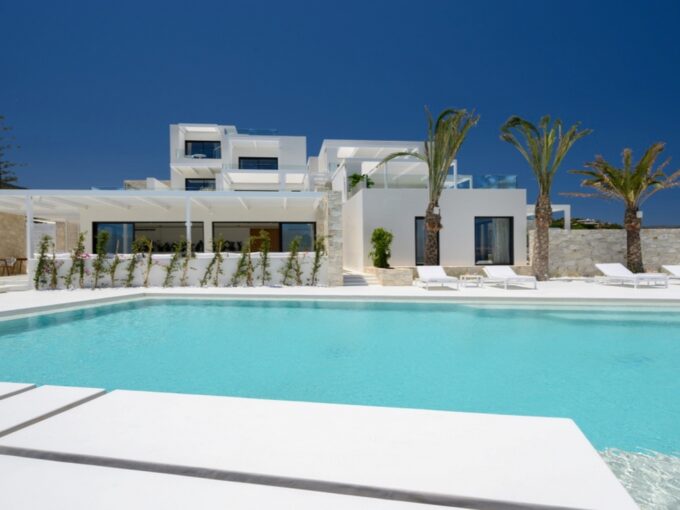 A Greek island seaside resort – Villa 15bdrm (if buyout)…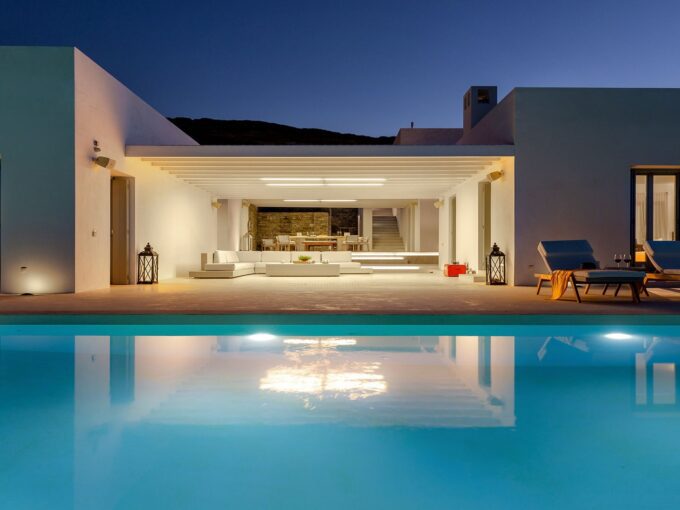 Nestled uniquely on the side of the hill of Ampelas…