Villa in Paros
Location: Paros, Greece
Description
Cradle of the Cyclades at the crossing place of several seas, the island of Paros has enjoyed since antiquity a prestige that only a few places in the world can boast. Soothed by the breezes and bedecked with fruit trees, the island gleams with a purity as immaculate as its marble. This is the backdrop which is the inspiration for Villa Konstantine, offering its visitors a pleasant place to stay, immersed in eternal landscapes and ancient myths.
Encircled by white stone walls which advance in terraces up to the outskirts of the villa, the outdoor areas embody within them the extraordinary natural diversity with which the island of Paros is blessed. The dry and rocky countryside is accentuated by a profusion of flowers and plants, and the many vistas can be enjoyed from the large central swimming pool or perhaps during a stroll through the winding paths of the garden.
Built of the limestone rock so typical of the Cyclades, the villa rises up above its natural setting and looks out to the tranquil sea which can be heard washing in just a few metres away. Faithful to Greek tradition, inside the rooms are enhanced by whitewashed walls and decorated with natural wooden furniture, adding a touch of homely comfort to the purity within.
The ambiance continues into the bedrooms, where the blue colours of the bathrooms recall the sea which is just a few steps away. The bedrooms open onto the outside landscape, offering the perfect place to take in the views in a special moment of private indulgence.
KEY FEATURES
Central air-conditioning
Beach within walking distance
Private entrance to a shared beach
Chef
Prepared breakfast
Prepared lunch
Butler
Prepared dinner
Cleaning: daily
AMENITIES
Swimming pool
Ceiling fans
Central heating
Air-conditioning – bedrooms only
WiFi
Barbecue
Veranda
Outdoor bar
Deck chairs / Sun Bed
TV room
Mediterranean garden
Vegetable garden
Terrace
Automatic gate
Safe
Not suitable for the disabled
THE SURROUNDINGS
Out of town
Private entrance to a shared beach
Sea view
Nature view
Beach within walking distance
Restaurants and bars within driving distance
Similar Properties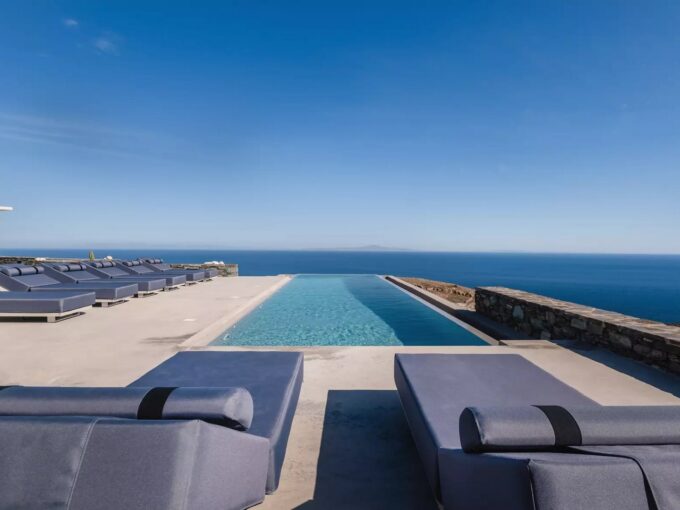 In Syros, this villa seems to float on the turquoise…
Rent
From 6,375€ per week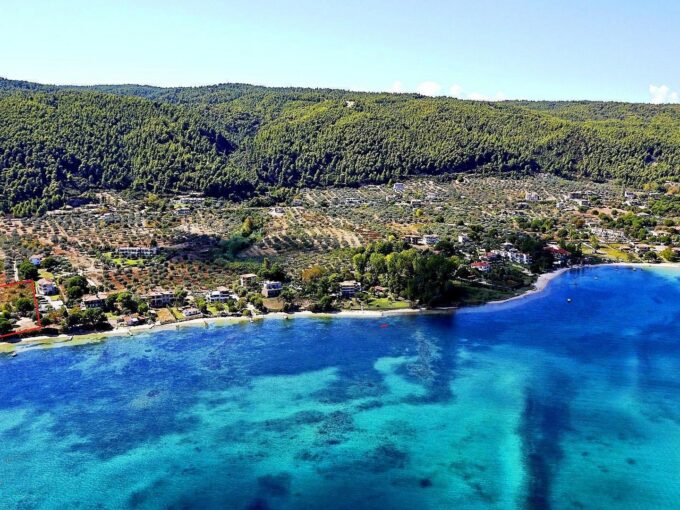 The villa is located in a large well-kept garden in…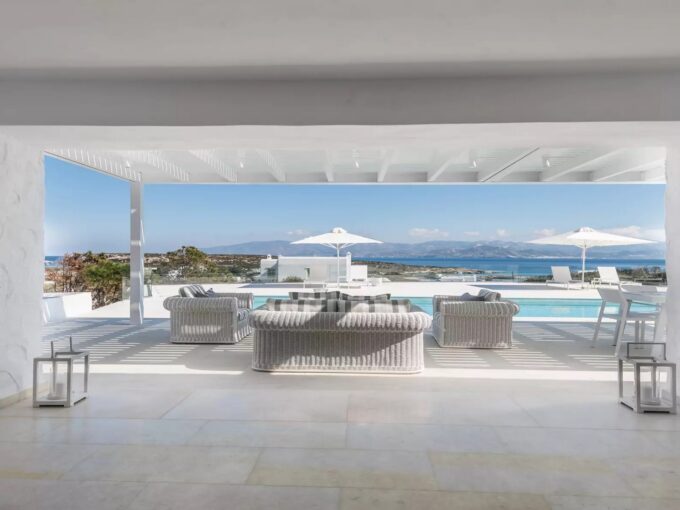 KEY FEATURES Beach within walking distance Outdoor swimming pool Compound…
Rent
From 10,005€ per week