Villa in Paros
Location: Paros, Greece
Rent
From 8,010€ per week
Description
At the heart of the Cyclades, the island of Paros – a meeting point for maritime routes – presents diverse visages fashioned by History. Greek, Roman, Byzantine and Venetian cultures impregnated the landscapes of this mysterious island. Its soil is the most fertile in the archipelago while its "transparent marble" has earned it renown since antiquity. A welcome refuge for sailors and a hive of cultural activity, today Paros sets out to be an island that rides on the wave of modernity – as attested by the astonishing Villa at the south of the island.
The sparkling mineral architecture that results is a blend as splendid as it is natural. Built on the side of a hill, in front of a large green slope, the villa overlooks the Aegean Sea, offering breath-taking views of Naxos and other isles in the archipelago. A pleasant terrace stretches in front of the house, holding a 50 m² swimming pool whose four podiums can serve as seats or diving boards. Further off, in the shade of a parasol whose veils can be closed for a more intimate atmosphere, a dining room for ten looks across sand dunes.
The main building hosts a living room, a dining room and a kitchen. In this beautiful, contemporary ensemble, brightness is reinforced by white floors and minimalist furnishings. In the living room, a few turquoise or jade highlights bring refreshment and urge visitors to look out at the sea. Meanwhile, top designers are responsible for the table, chairs and lights in the dining room and kitchen bar. In the kitchen, stainless steel and corian create a perfectly practical and stunning finish.
The bedrooms are found in the three adjoining structures. Two of them are independent studios. Here again, design takes pride of place, with a welcome whimsical touch in the furniture and decoration. The bathrooms feature mineral materials and sometimes surprising colours, such as fuchsia or carmine red.
Reinventing the Cycladic house through the prism of contemporary aesthetics: this is the challenge taken up and won by this villa. This belvedere looking out at the Aegean will surprise and enchant guests, as much through its perfect location and innovative features as its avant-gardist and decidedly up-to-day look.
KEY FEATURES
Central air-conditioning
Mediterranean garden
Sea view
Cleaning: 2 times a week
AMENITIES
Swimming pool
Central air-conditioning
WiFi
Veranda
Outdoor bar
Mediterranean garden
English garden
Automatic gate
Safe
Not suitable for the disabled
THE SURROUNDINGS
Out of town
Partial sea view
Similar Properties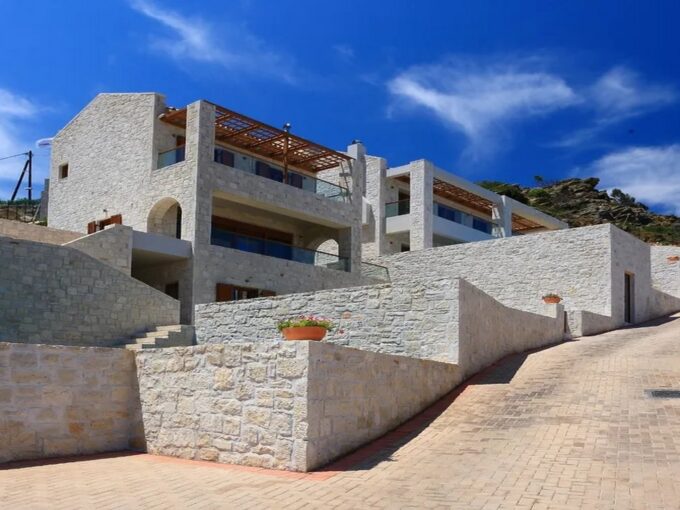 A luxury villa of 141 sq.m is for sale on…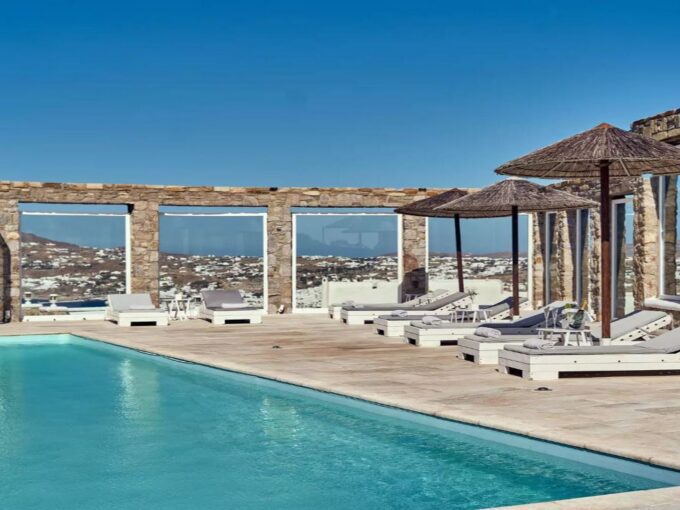 12 guests 6 bedrooms 6 bathrooms 480 sqm Key features…
Rent
from 4,900€ per week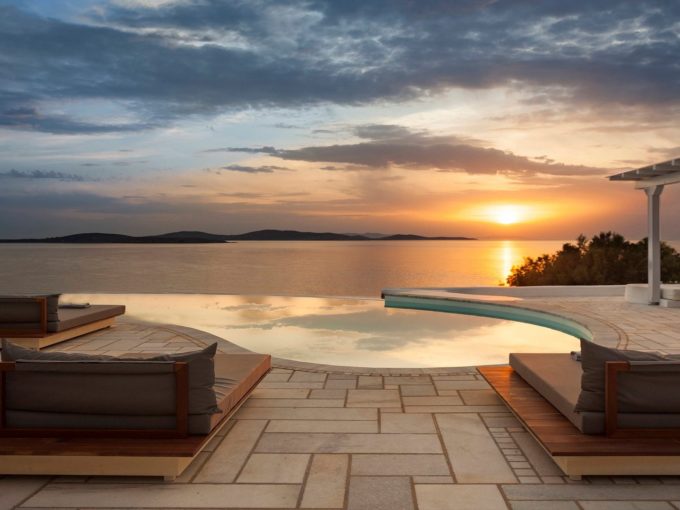 Cool, calm and contemporary in elegant island style, with décor…