Villa on the island Spetses
Location: Spetses, Argolida, Greece
Description
Seafront Private Property for Sale With a Traditional Neoclassical Spetses Mansion
A Spectacular Gorgeous 35'000 m2 piece of Land with Private Beaches, Docking Area for Big Yachts including a Traditional Spetses Mansion.
Situated on the South-West Part of Spetses, one of The Most Cosmopolitan, VIP, and Popular Islands of Greece near Athens.
Boasting an Exemplary Finish and Presented to the Highest Standards.
Separate buildings for Guest Houses, Spa, Fitness Center, Home Theater, Recreational Area, Bar with indoor Jacuzzi, Indoor Garage, Personnel Quarters, Security Room all in 1'000 m2 plus of living space, capable of housing more than 20 people.
A Large 200 m2 Private Outdoor Swimming Pool surrounded by 6'000 m2 of beautiful gardens with exotic plantation.
Access to 2 Private Beaches on Both Sides of the Cape.
A Private Docking Area for Private Yacht(s) providing Diesel Fuel, Gasoline, Fresh Water, Electricity, Telephone-Internet, Wi-Fi, and Satellite TV.
Of Particular Note are the Spectacular Views.
The property is accessible:
From the city of Spetses by road (7 Km from the city of Spetses) and by the sea (10min by sea taxi).
By a private yacht or by a helicopter.
The Island of Spetses is accessible by land (200 Km from Athens), by the sea (1.5 hours by Flying Dolphin, 60 miles from the Port of Piraeus), or by helicopter.
Main House of 440 m2
3 level Luxurious Traditional Villa with excellent specifications, made out of stone-walls, 80 cm wide. Floors made out of "Pendeli" marble (same as the "Parthenon" is made out of ), as follows: 3 Bedrooms-Suites each one with its own bathroom & study area, 1 Guest Suite-Apartment (with separate Living Room, Kitchen, Bathroom), Living Room, Fire Places, TV Area, Dinning Area, Large Kitchen (with Professional Standards), Guest WC, Big Cava room, and Large Verandas with Fantastic Views.
Guest Houses – and Entertainment Area
(To be completed to owner's specifications)
3 Additional Guest Rooms – Apartments, totaling 160 m2, extending hospitality by 12 Guests making it possible for more than 20 people living simultaneously within the Estate.
Bar with Indoor Jacuzzi ( 56 m2)
Fitness Center-Spa (104 m2) (Sauna, WC, etc.)
Recreational Room, Home Theater, totaling 84 m2
 Swimming Pool Area
Large Private Outdoor Swimming Pool with a Surface of 200 m2 (20×10) with Water Massage Area. Automated regulation for Chlorine, PH, anti-algae.
In addition there are Indoor WC, Showers, and Storage Area of (19 m2).
Very nice surrounding area with Pergola, BBQ, Bar, Plants, etc.
 Private Beach
Access to 2 private beaches on both sides of the cape.
Walking distance from the Main House.
Beaches are with small-pebble and sand.
The sea water is Crystal Clear and of top quality.
 Private Dock Area
With sea Kiosk with all comforts and utilities for resting (20 m2).
2 Docking systems for private yachts (blocks & chains totaling 5 tones in the sea)
Provision for Electricity, Water, Diesel & Gasoline Fuel, Telephone, Internet, Wi-Fi, Satellite TV.
 An area of 110 m2
Indoor 3 Parking Spaces
2 Personnel Quarters
Washing machine – Drier – Ironing Area
3 rooms compose the Private Electrical Substation of 400 KVA
 Additional features
Central Air-Condition System
Security Alarm System (with cameras & access through internet)
Telephone Central System with ADSL internet, Wi-Fi
Satellite TV
Boiler-Room
Biological Treatment Facility
Desalination Plant (Suffice for the property's needs & expandable)
Electrical Substation of 400 KVA with 15 electrical boards
Automated Irrigation System for the whole property
4 Water Depot (2 twin 2*150 m3 in the upper part of the property, One 100 m3 in the Biological Treatment Area, and One 120 m3 in the House)
Visit able 90% of all Electrical & Pluming infrastructure via a connecting underground tunnel
External Independent Storage Areas (5 refrigerators, Deep Freezer) within the property
Capability for electricity & water to reach any part of the property (via a system of 3 independent water pressure stations & the 15 electrical boards)
In the process of obtaining a certificate of energy efficiency class
Similar Properties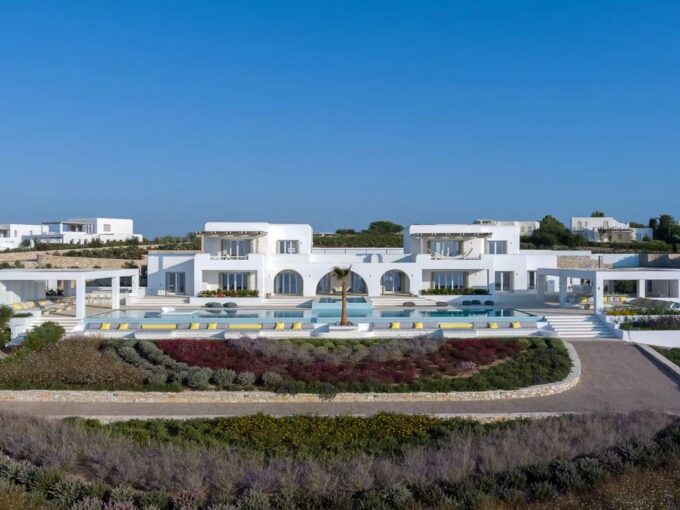 26 guests 13 bedrooms 15 bathrooms 900 sqm Key features…
Rent
from 50,010€ per week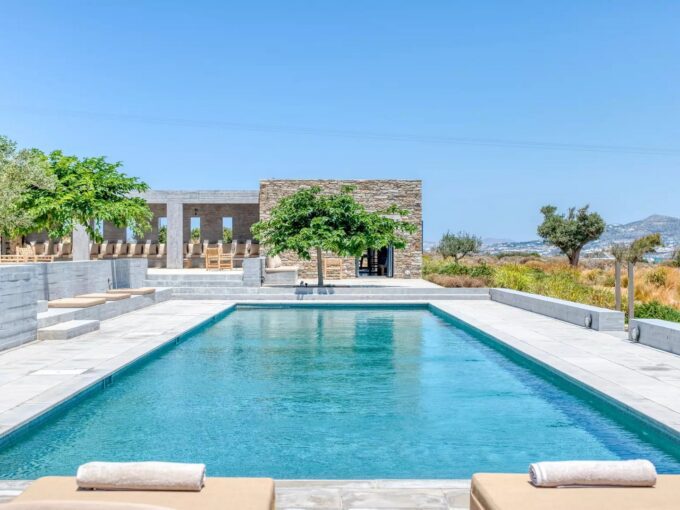 KEY FEATURES Architect's house Beach within walking distance Central air-conditioning…
Rent
From 23,380€ per week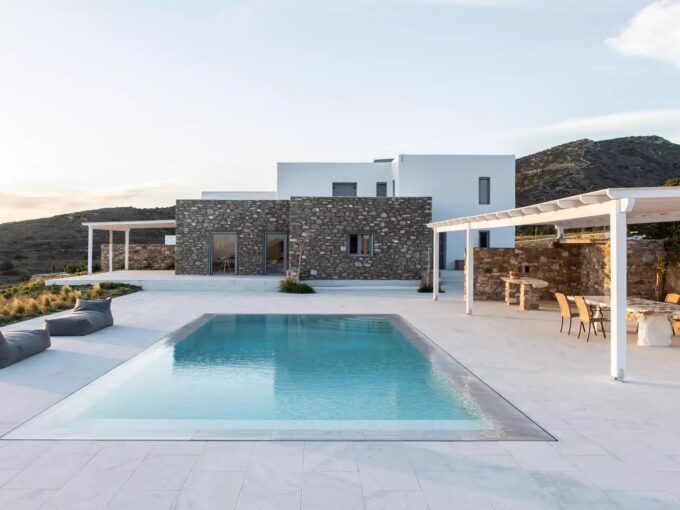 KEY FEATURES Nature reserve Central air-conditioning Mediterranean garden Cleaning: daily…
Rent
From 7,045€ per week