Villa in Pefkohori, Halkidiki
Location: Pefkohori, Halkidiki
Description
Each villa can accommodate up to 10 adults and has 5 separate bedrooms, 4 luxurious bathrooms, a fully equipped kitchen to make everything in your home.
In this independent villa complex you will find comfort in a warm and friendly atmosphere.
Four luxurious rural villas in Pefkohori, Halkidiki, set amidst the lush nature of the area, overlooking the Aegean Sea, are waiting for their visitors to have an unforgettable vacation. With amenities comparable to luxury hotels, but with more privacy, each villa has a breathtaking view, a relaxed atmosphere and all the luxurious amenities ideal for a relaxing holiday. The villas are designed for families, couples, honeymooners and groups. Enjoy tranquility, comfort and luxury in these sophisticated and unique villas.
The complex is located 5 minutes from Pefkohori in one quiet area, protected from the noise of the settlement and the noise of the crowd, waiting to surprise you. Offering visitors the opportunity to enjoy a magical holiday in the heart of the most popular place in Halkidiki, your time here will be filled with tranquility and bewitching views of the horizon. The more lively streets of Halkidiki, as well as restaurants, cafes and beach bars are within walking distance. Thus, guests can easily reach the most popular hot spots of Halkidiki, but at the same time it is easy to return to their personal space.
About Pefkohori Village
Pefkohori is a large village located in Kassandra on Halkidiki, the first peninsula. In the summer months, you can have fun until the early hours of the morning, enjoy traditional Greek and Mediterranean dishes at the luxurious restaurants and fish taverns. In addition, there are many organized beach bars along the coast of the village. In the village of Pefkohori you will find ATMs, post offices, Internet cafes, supermarkets, private clinics and dental clinics.
Pefkohori, in addition to the beautiful sandy beach in the village, is located near excellent beaches that attract many visitors to Halkidiki. Grarokavos is only 3 km from the center of the village. The famous beach bars Navagos and Kursaros are 7 km from Pefkohori.
Distances
• Thessaloniki 110 km
• Airport 105 km
• Hanioti 5 km
• Pefkohori 900m
• nearest beach 250m
• Akrotiri Beach Bar 1050m
• Supermarket 1000m
• Pharmacy 600m
• Vlachos Restaurant 1500m
Similar Properties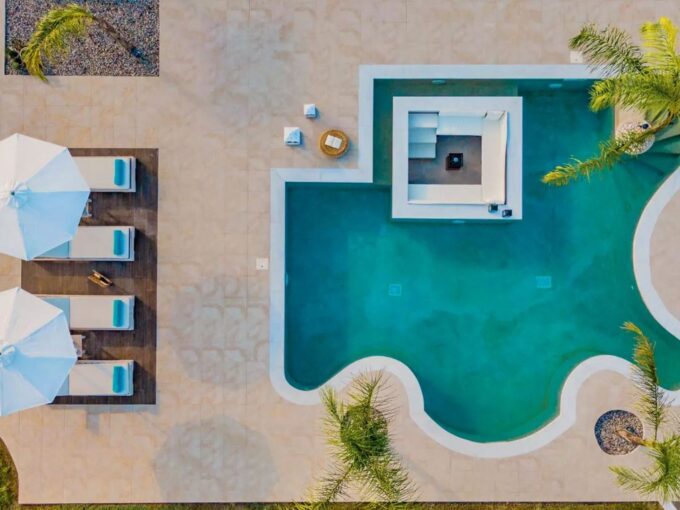 8 guests 4 bedrooms 4 bathrooms 320 sqm Key features…
Rent
from 6,300€ per week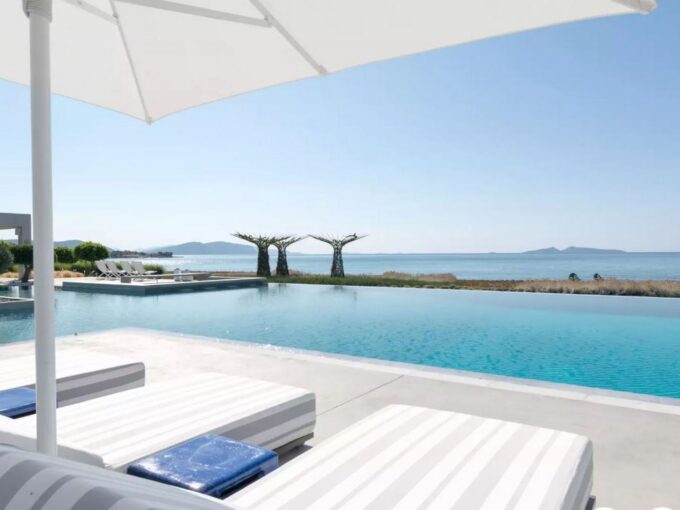 14 guests 11 bedrooms 11 bathrooms 845 sqm Key features…
Rent
from 62,505€ per week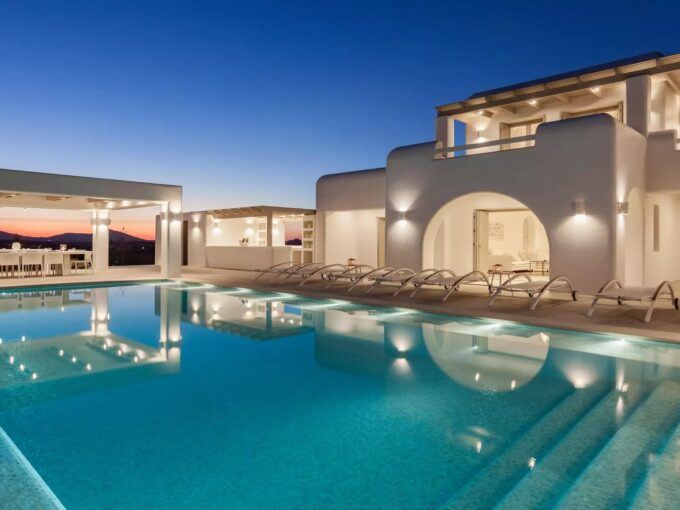 KEY FEATURES Villa Beach within walking distance Sea view Infinity…
Rent
From 17,500€ per week