Villas on Crete island
Location: Maleme, Chania, Crete, Greece
Description
This complex is a newly development. The project is landscaped with beautiful gardens and a communal swimming pool with mosaics and a vanishing edge on one side overflowing into a stream that spreads throughout the gardens and project.
Complex is comprised of a nice mixture of properties including apartments, penthouses and townhouses.
Complex has been designed with meticulous attention to detail, creating homes with style, sophistication and warmth.
First line
Airport – 40 minutes
VILLA #1
Villa area – 122,72 sq.m
Bedrooms – 2+1
Bathrooms – 1+1
Levels – 2
Covered veranda – 11,44 sq.m
Garden area – 61,86 sq.m
Parking space – 11,25 sq.m
Total covered area – 138,08 sq.m
Price – 367.500 euros
VILLA #2
Villa area – 120,21 sq.m
Bedrooms – 2+1
Bathrooms – 1+1
Levels – 2
Covered veranda – 10,91 sq.m
Garden area – 63,03 sq.m
Parking space – 11,25 sq.m
Total covered area – 134,97 sq.m
Price – 365.000 euros
VILLA #3
Villa area – 121,46 sq.m
Bedrooms – 2+1
Bathrooms – 1+1
Levels – 2
Covered veranda – 11,44 sq.m
Garden area – 63,11 sq.m
Parking space – 11,25 sq.m
Total covered area – 136,78 sq.m
Price – 365.000 euros
VILLA #4
Villa area – 120,81 sq.m
Bedrooms – 2+1
Bathrooms – 1+1
Levels – 2
Covered veranda – 9,89 sq.m
Garden area – 65,84 sq.m
Parking space – 11,25 sq.m
Total covered area – 134,61 sq.m
Price – 370.000 euros
APARTMENT #1
Apartment area – 51,81 sq.m
Bedrooms – 2
Bathrooms – 1
Covered veranda – 14,00 sq.m
Parking space – 11,25 sq.m
Total covered area – 69,46 sq.m
Price – 285.000 euros
APARTMENT #2
Apartment area – 54,62 sq.m
Bedrooms – 2
Bathrooms – 1
Roof terrace – 69,16 sq.m
Veranda with pergola – 11,44 sq.m
Parking space – 11,25 sq.m
Total covered area – 58,47 sq.m
Price – 290.000 euros
Similar Properties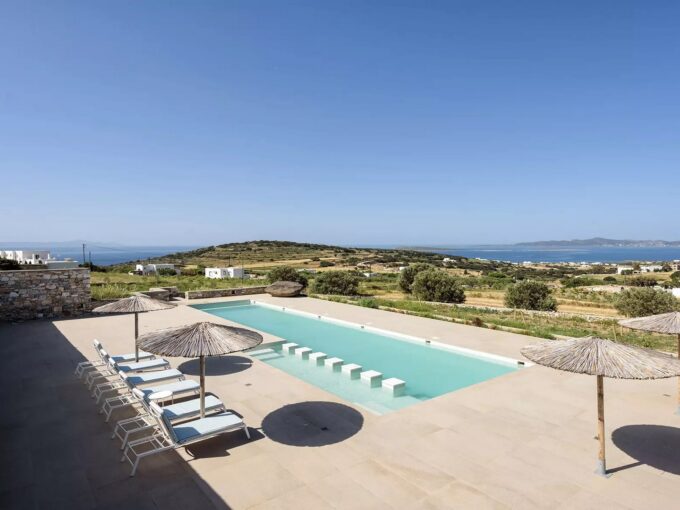 Overlooking the green and blue landscapes of Paros, this villa…
Rent
From 5,000€ per week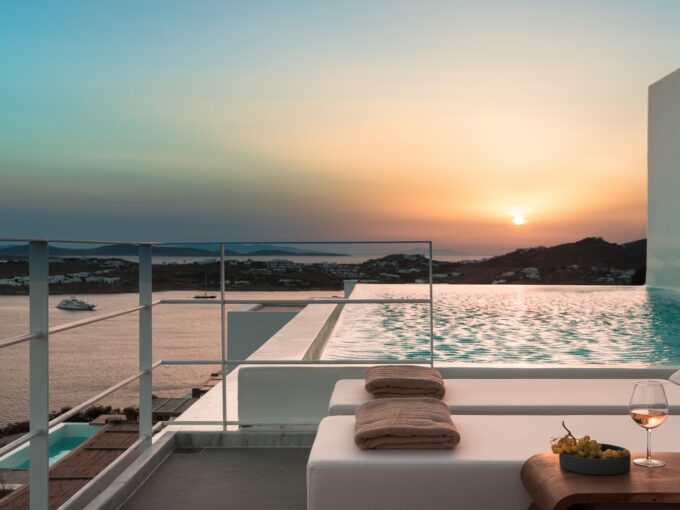 A beautiful brand new, ultra – luxury villa located in…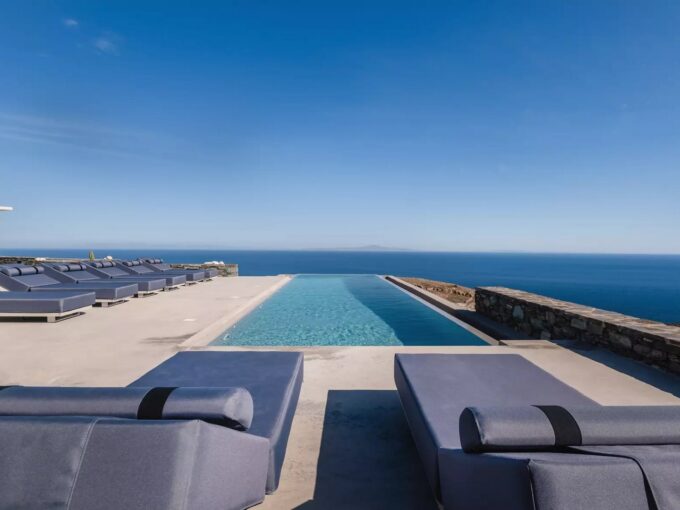 In Syros, this villa seems to float on the turquoise…
Rent
From 6,375€ per week