6-bdrm villa in Corfu
Location: Corfu, Greece
Rent
from 18,000€ per week
Description
Rent price: €18,000 – €41,195 per week
Sleeps 12
6 Bedrooms
6 bathrooms
This superb beachfront villa situated in the north east of Corfu sleeps 12 in beautifully designed accommodation. The location of Villa, with its infinity pool overlooking the sea, will impress even the most seasoned visitor to Corfu.
Villa is only 50 minutes' drive from the airport or 20 minutes' by water taxi. The location ensures both close proximity to nearby town, Kassiopi (5 minutes' drive), whilst the seclusion of Villa' location on the waterfront also provides peace and privacy. San Stephano, another charming harbor village is only a 10 minutes' drive, where you will find a number of local tavernas and bars positioned right on the waters edge.
Days can be spent touring the island by boat, as the nearby private mooring with its own jetty provides easy and direct access to the sea. Many restaurants receive their guests by boat and securing your boat while handing you a menu is all part of the service. Your private chef will prepare breakfast and lunch or dinner on 6 days of the week and with 5 hours a day of housekeeping and a team on hand to look after the grounds, including a 24 hour concierge, you will have no reason to worry about the running of any part of the house or garden. A swim before breakfast in the sea, that is only 30 meters from the house, is a perfect and refreshing way to start your day.
The large 17m infinity pool looks out over the turquoise waters of the Ionian below, this view can also be enjoyed from the shaded al fresco dining area covered by a pergola. Indoors, you can find a fully equipped in-house gym, for those who wish to remain active and the cinema room will keep everyone entertained, however the sunsets you can view from outside cannot be missed!
A maximum of 10 guests can be accommodated in flexible bedroom suites in the main house, with a cottage housing a further couple in light and airy rooms that have each been tastefully designed. Beautiful lighting transforms the villa at night and part of the charm of Villa is being able to dine under the stars.
This Villa is a magnificent and unique holiday home, a place where you can truly switch off and feel assured that your every need will be taken care of. The location of this Villa is what really sets it apart from the rest, it's a place that feels exclusive and secluded but not cut off from nearby
Bedrooms & Bathrooms
Living Areas
Pool & Outdoor Space
Amenities
Staff & Services
Bedroom 1 (En Suite) • Main House
• 1 x Double / Twin
• Garden view •Hairdryer •Outside access •Private terrace •Vanity table
Bathroom features
Shower
Bedroom 2 (En Suite) • Main House
2 x Single
• Garden view •Hairdryer •Outside access •Vanity table
Bathroom features
Shower
Bedroom 3 (En Suite) • Main House
• 1 x Double
• Garden view •Hairdryer •Outside access •Sea view •Vanity table
Bathroom features
Bath •Shower
Bedroom 4 (En Suite) • Main House
• 1 x Double
• Hairdryer •Private terrace •Vanity table
Bathroom features
Shower
Bedroom 5 (En Suite) • Main House
• 1 x Double / Twin
• Hairdryer •Outside access •Private terrace •Sea view •Vanity table
Bathroom features
Shower
Bedroom 6 (En Suite) • Annex
• 1 x Double / Twin
• Hairdryer •Outside access •Private terrace
Bathroom features
Shower
Sitting room
DVD
Fireplace
Music system
Outside access
Satellite TV
TV
Cinema
Home cinema
Satellite TV
TV
Additional room(s):
Gym
Utility room
Swimming Pool:
Length: 17m
Width: 4m
Depth: 0.8m – 2m
Fresh water
Chlorinated
General
Air conditioning
Coal BBQ
General safe
Off-street parking
Electrical
DVD
Home cinema
Music system
Satellite TV
TV
Wi-fi
Utility
Clothes dryer
Iron & board
Washing machine
Gym
Bench press
Cross trainer
Exercise bike
Free weights
Running machine
Housekeeper
6 days per week
8 hours per day
Non-resident
Additional hours on request
Evening bed turn down
General clean
Cook
Included: Part-season
6 days per week
Non-resident
Breakfast
Lunch or dinner
Children's meals
Extra meals on request
Shopping
Services included
Concierge
Gardening
Pool cleaning
Bathroom products
Welcome food hamper
Wine on arrival
Bath towels
Bathrobes
Bed linen
Pool towels
Services available on request
Airport transfers
Useful Distances
Town 2 – 5 KM
Golf course 20 – 30 KM
Restaurant 2 – 5 KM
Shops 2 – 5 KM
Beach < 0.1 KM
Airport 30 – 50 KM
Similar Properties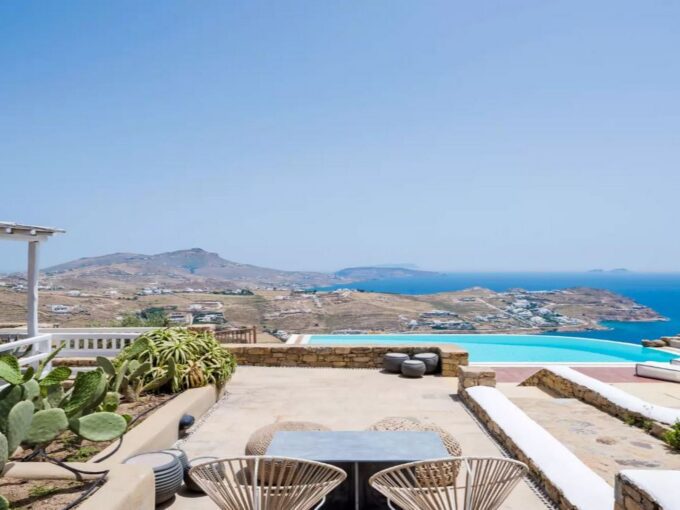 14 guests 7 bedrooms 5 bathrooms 700 sqm Key features…
Rent
from 9,100€ per week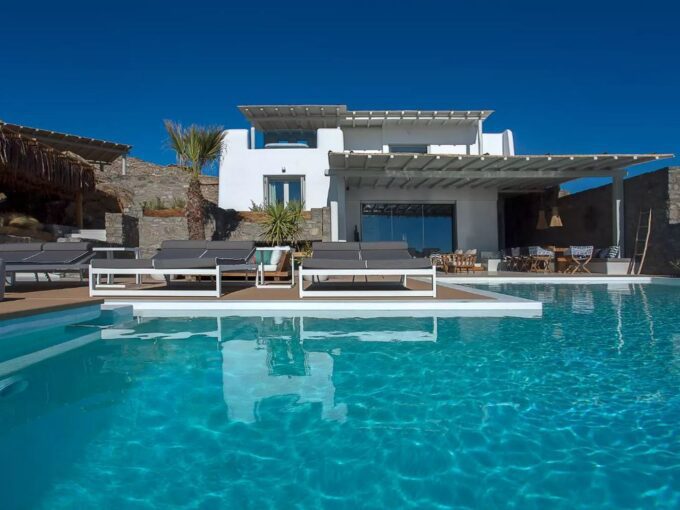 13 guests 7 bedrooms 7 bathrooms 340 sqm Key features…
Rent
from 12,600€ per week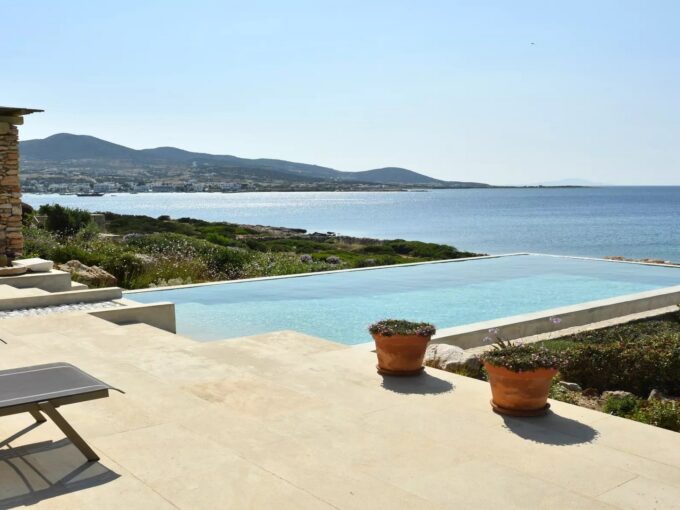 The golden stoned front is in harmony with the cream…
Rent
From 5,005€ per week