Villa in Paros
Location: Paros, Greece
Rent
From 12,385€ per week
Description
Villa's stately stone works are perfectin keeping with the rugged, rocky landscape. With its multi-level flat roofs, the design is heavily inspired by the architectural traditions of the Cyclades. Inside the décor is sleek and light, like a breath of fresh sea air. When you throw open the patio doors, the breeze makes the floaty curtains dance like the sails of an ancient Aegean clipper. The whole design scheme is an ode to the island landscape, with its golden sands and crystalline waters: dashes of cerulean blue enliven the white and beige colour palette, with silver fish adorning the walls.
For lunch, head over to the port of Aliki to see the fishermen still untangling their nets from the morning's catch. Don't miss the "gouna," a traditional local recipe made with sun-dried mackerel. In the afternoon, when the sun hits its peak, relax in the shade of the patio or cool off in the pool. When the winds are up, hop aboard a sailboat to explore the coast of Paros. Pull up a deck chair, wrap up in a blanket and enjoy a glass of Mandilaria as the sun sets over Antiparos. Snuggle up as night falls and the myriad stars light up the eternal Cycladic sky.
KEY FEATURES
Private entrance to a shared beach
Beachfront
Barbecue
TV room
Panoramic sea view
Cleaning: daily
AMENITIES
Swimming pool
Ceiling fans
Heated floors
Air-conditioning – bedrooms only
WiFi
Covered Terrace (Pergola-style)
Barbecue
Veranda
Patio
Deck chairs / Sun Bed
TV room
Mediterranean garden
Digicode and smart key
Automatic gate
Safe
THE SURROUNDINGS
Aliki comes into view from the deck of the boat. This little fishing port, on the south-west coast of Paros, has lost none of its authentic charm. Here the familiar scents of sea air and warm sand mingle with the enticing aromas of grilled octopus. Leave the port behind and set out across the salt marshes to reach Villa. The house looks out over the water and the island of Antiparos just across the channel, the turquoise waters of the swimming pool blending in seamlessly with the endless Aegean below.
No neighbors
Beachfront
Out of town
Private entrance to a shared beach
Sea view
Shops within driving distance
Beach within walking distance
Restaurants and bars within driving distance
Similar Properties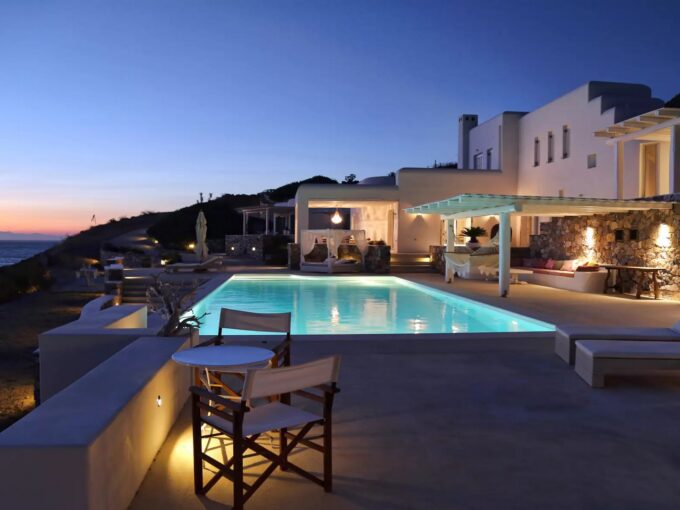 Key features Beach within walking distance Compound Outdoor swimming pool…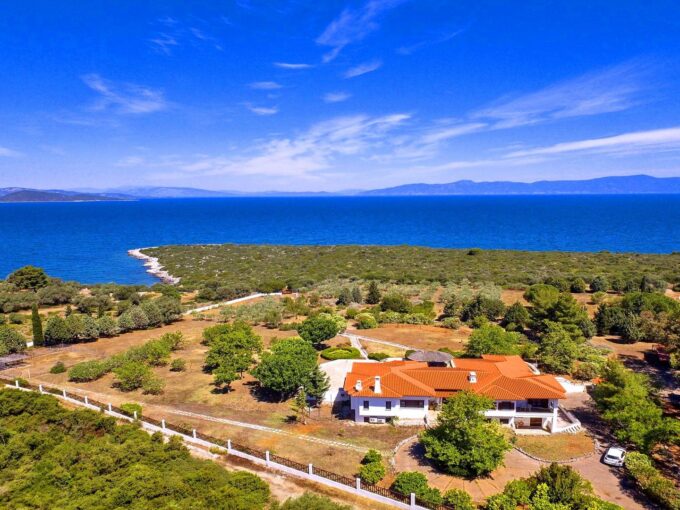 Beautiful fully furnished villa near the sea with an almost…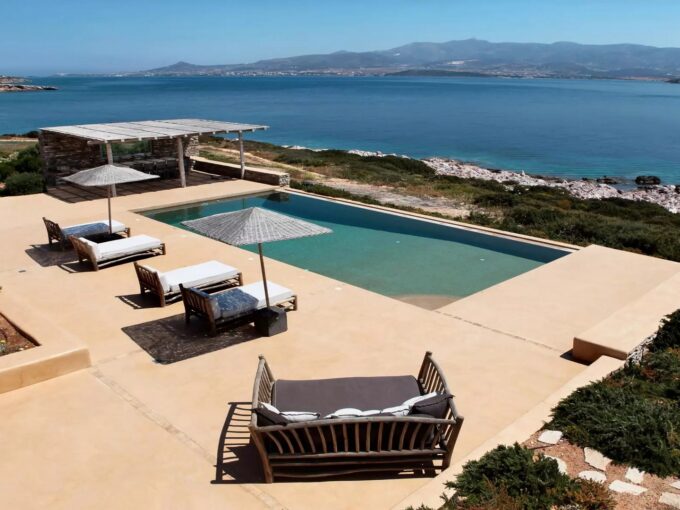 KEY FEATURES Outdoor swimming pool Sea view Tennis court Basketball…
Rent
From 17,000€ per week