Villa in Lefkas
Location: Lefkas, Greece
Description
Independent luxury villa with private pool, amazing sea views and sunset…
A sensual delight Villa Camelia is synonymous with luxurious stay. At first glance you will feel the soothing effect of the aromas and colours. The décor steals the show while also creating the sweet sensation of simplicity that pervades the interiors. The villa is mainly made of wood, marble, granite and earth tones that complement the surrounding natural world. Traditional carpenters have poured all their skill and dexterity in building the furniture you will enjoy.
On the ground floor you will find a spacious, welcoming living room, a fully equipped kitchen decorated with style and skill and a comfortable bedroom with 2 beds, bathroom and shower. On the top floor a master bedroom awaits, with an en-suite bathroom, a jacuzzi and a balcony, from where you can gaze at the spectacular Ionian view every morning.
The outdoor spaces are framed by stone walls and boast a wonderful yard with ceramic flooring in earth tones, a variety of flower beds and a roofed balcony-dining room where you can enjoy your homemade meals prepared by yourselves in your traditional wood-fired oven.
The final touch is the blue water of the large swimming pool that becomes one with the horizon and the endless blue of the Ionian Sea.
Your pleasant stay is completed by views of the sea visible from every corner of the villa, the gentle caress of the afternoon Maistrali breeze and the magic of the unique sunset. Enjoy the tranquility of nature, while the rustling of leaves, chirping of birds and harmony of colours stimulates your senses and emotions.
Ideal choice for couples, groups of friends or families.
Autonomous two-floor 130 square metre villa with sea view
Flat screen satellite TV
DVD player
Wi-Fi Internet
Central heating
Air conditioning in all rooms
Safe
Dishwasher
Washing machine
Iron and ironing board
Microwave
Coffee machine, toaster
Private infinity pool, (9.5 by 4.5 metres)
Garden yard with table, seating and sun loungers
BBQ and wood fired oven
Living area, dining room and fully equipped kitchen
2 bedrooms, 2 bathrooms, 1 toilet
Capacity – 5 persons, 3 single beds, 1 king size bed
Direct sea and pool view
West facing view – sunset
Fully fenced property with private entrance
Private parking
Daily Housekeeping
Complimentary Welcome Package including organic fruit & a bottle of Select Wine for the adults and cookies with milk for the minors
Similar Properties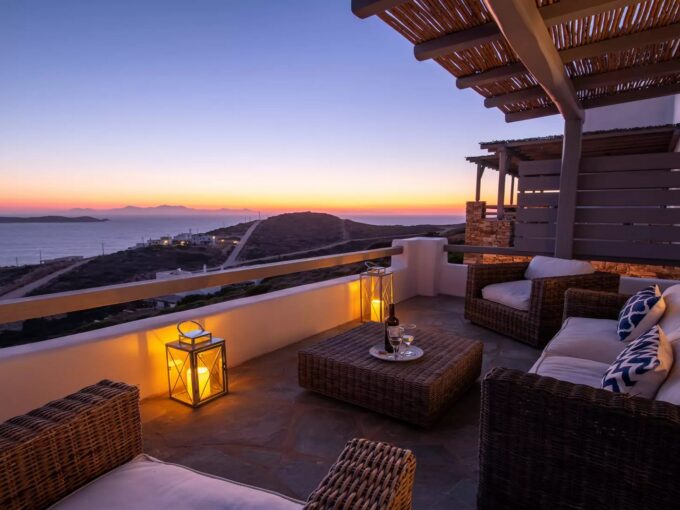 KEY FEATURES Outdoor swimming pool Sea view Nature reserve Out…
Rent
From 9,625€ per week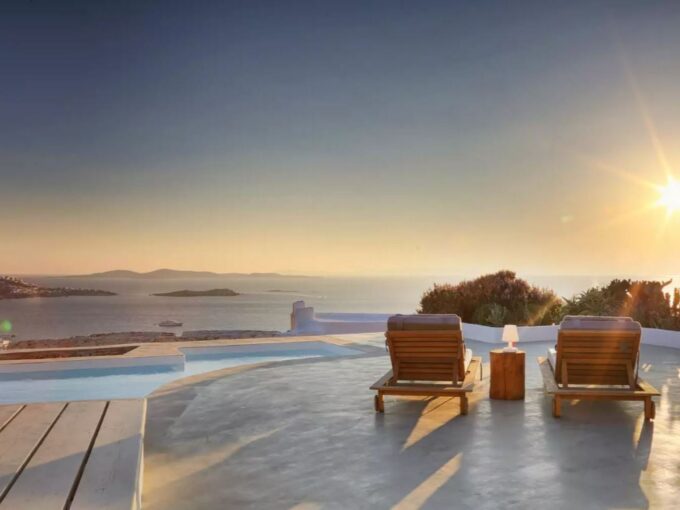 12 guests 6 bedrooms 6 bathrooms 300 sqm Key features…
Rent
from 10,500€ per week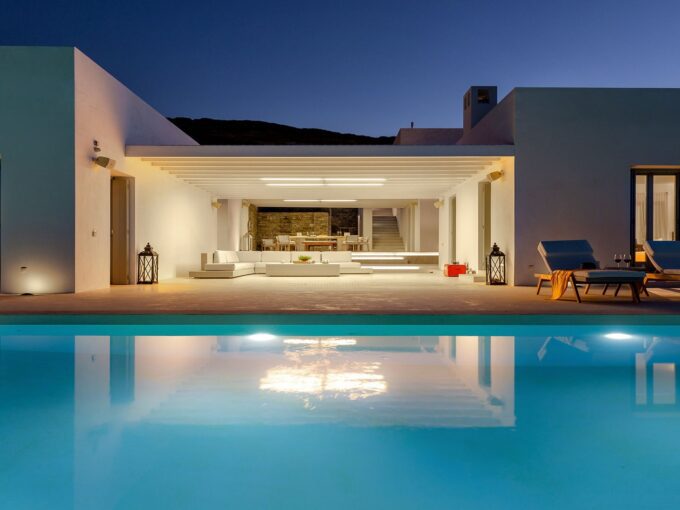 Nestled uniquely on the side of the hill of Ampelas…